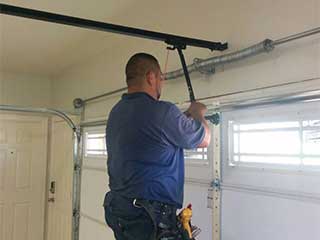 The springs are a fundamental part of your garage door system – they essentially do the heavy lifting that's required for your door to open and close. These components bear the weight of the door, meaning they're under a lot of strain on a regular basis. For this reason, it pays to keep an eye on their condition. If they break completely, you won't be able to use your door.
Which Type Of Spring?
There are two types of springs available for your door system. If you have two springs on either side of your door, you're using extension springs; these work by stretching and coiling as the door opens and closes. The other type of commonly used spring is a torsion type, this work with torque and is usually placed above your garage door horizontally across a metal bar. To help your door stay as functional as possible for as long as possible, both types of spring require regular check-ups and maintenance as they are both prone to wear and tear.
How To Keep Your Springs Working
Your spring door system is very much like your muscular system, prevention is better than the cure. If your springs are looking worn, don't wait until it's too late and you've got a big problem on your hands. The best way to care for your springs is to have them serviced regularly. From lubrication to the delicate tasks of tension adjustment, our technicians are specialists in making sure these components are safe.
What's The DIY Danger?
When something goes wrong with a household appliance or system, it can often be cost-efficient to try and sort the problem yourself. However, when it comes to springs, this type of cost efficiency can be catastrophic. There is a real risk of laceration and injury if your door spring suddenly breaks. Another danger is that if your door spring breaks suddenly, there will be nothing holding the garage door in place causing the door to slam shut, potentially causing injury and damage. Always seek professional assistance when it comes to fixing your garage door spring.
We're Here For You
Whether you are looking for a friendly maintenance team or you need an emergency fix. You can depend on our team at Garage Door Repair Bluffdale. Get in touch today!
You can also count on us for:

Roll up Garage Door Maintenance

Damaged Parts Replacement

Garage Door Extension Spring Installation

LiftMaster Garage Door Opener Repairs