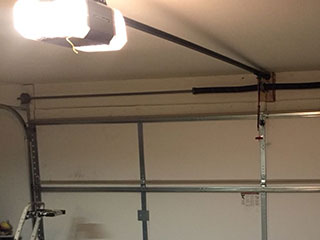 Your garage door opener can experience deterioration over time, causing potentially risky situations if malfunctions go undetected. Our technicians specialize in repairing such malfunctions and can also service your system to help prevent dangerous accidents.
The Different Drive Systems
Openers come in a range of different models, but they all fall under three categories based on their drive system. Although chain-drive units can be noisy, they are a reliable and inexpensive choice for homeowners. Belt-drive units operate silently, but can cost a little more because of this. Screw-drive units require low maintenance, but can be a bit noisy in their operation. Ultimately the right choice for you will depend on your property setup and household needs.
Selecting The Right Add-Ons
Many manufacturers today produce models that come with specialized features. For example, Genie and LiftMaster openers utilize a rolling code technology to prevent hijacking of your remote and opener access codes. The codes change whenever the unit is being used, so the possibility of theft is lower. Other features to consider include a backup battery system and Wi-Fi compatibility. It's important to speak to an expert to help you decide on the features that you want for your unit and the security needs for your home.
Opener Repair And Maintenance
To keep your opener in excellent condition, it requires a certain amount of attention and care. This is why it's important to service your unit on a regular basis. Our technicians can ensure that everything is in working condition, inspecting all important components that make up your opener, like the trolley, rail, motor gear and circuit board. We will also realign your safety sensors if we detect alignment issues, and perform safety- testing to ensure your door reverses if there's an obstruction in its way.
Count On Us
Whether you're in need of an emergency repair or a safety check to keep your opener in good condition, you can count on our expert technicians at Garage Door Repair Bluffdale. Talk to us today!
In addition, we offer:

Garage Door Opener Maintenance

Garage Door Off Track Repair

Galvanized Torsion Spring Installation

Opener Remote Clicker Replacement